Yellowstone Winter Wildlife Walks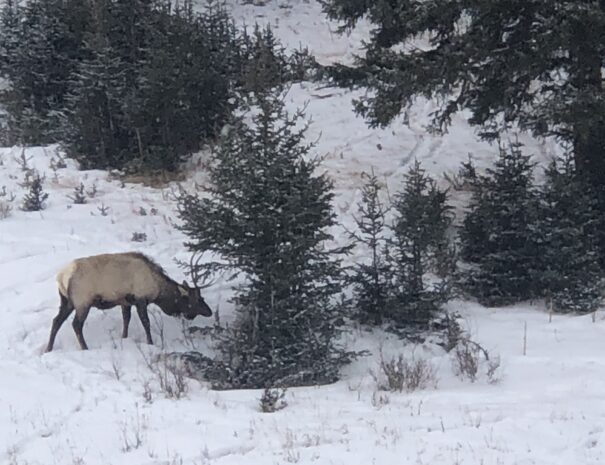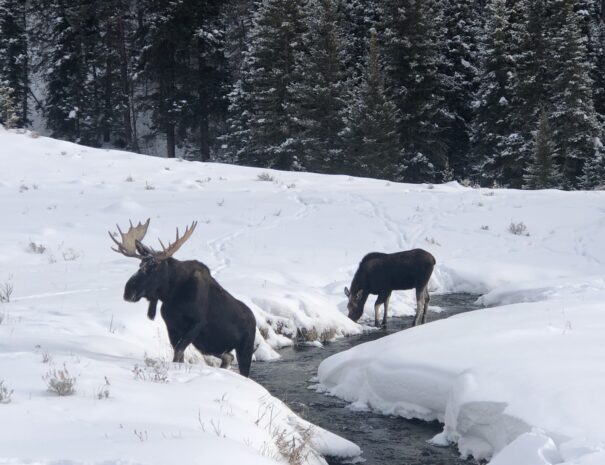 Day 1. Arrival in Bozeman
Arrival in Bozeman, our hotel offers a free airport transfer. Comfort Inn or similar (3-star), 1 night
Day 2. To Yellowstone National Park's Mammoth Hot Springs
8 AM: Your guide welcomes you at the hotel and we drive to nearby Yellowstone National Park. We settle into our rustic cabins on the Yellowstone River before exploring the park and the amazing travertine terraces at Mammoth Hot Springs. Then a remote trail takes us through the wildlife rich valley of Gardiner towards the Boiling River. We have a great chance to see elk, bison, antelope and deer. In the evening we get together for a communal meal in our cabin. Riverside Cottages in Gardiner, MT or similar, 2 nights Drive time: 80 miles / 130 km or 1.5 hr Mammoth Hot Springs: 5-6 hrs, ca. 5-6 miles / 8-9 km, elevation difference: +100m/ -400 m
Day 3. The Wolves of Yellowstone
After an absence of 100 years, wolves were reintroduced into Yellowstone National Park in 1995. Reintroducing the top predator to this complex ecosystem has been an incredible experiment. Today, we join a naturalist looking for wolves in the Lamar Valley. For sure we will see herds of bison that spend the winter here. On snowshoes we explore trails among the herds of bison and antelope. Tonight grab a swimsuit and try the hot springs! Dinner in the cabins.Trails in Lamar Valley area: 3-4 hrs, ca. 3-5 miles / 5-8 km, elevation difference: +/-200 m
Day 4. Snow Coach Tour to Old Faithful
Today, we head out on snow covered park roads to famous Old Faithful. Most of Yellowstone's roads are closed in the winter and only accessible via snow coach. Our excursion takes us to multicolored boiling mud pots and fumaroles before arriving at the steaming Upper Geyser Basin. Here we enjoy a walk through the very active geysers and geothermal features while waiting for the explosion of Old Faithful. There is a chance at seeing frost covered bison, elk and bald eagles. Upon return we settle in for another group dinner.
Day 5. Yellowstone's Grand Canyon
The Grand Canyon of the Yellowstone is a deep canyon carved into soft rock and basalt cliffs. We walk along the flat surface of the snow packed road with amazing views of the canyon and Calcite Springs. Elk, bison, mule deer and big horn sheep are our companions today. Tower Falls is one of the highlights of any snowshoe trip in Yellowstone. In the afternoon we depart to the West Entrance of Yellowstone. Group dinner in our family suite. Gray Wolf Inn or similar 3-star, 2 nights Drive time: 165 miles / 260 km or 3 hrs Tower Falls: 4-5 hrs, ca. 5 miles / 8 km, elevation difference: +/-200 m
Day 6. Madison River Trails
Hidden trails take us along the Madison River into the park. We have a chance at close wildlife encounters, such as bison and bald eagle. With luck we may see trumpeter swan and river otter as well! In the afternoon we continue our journey towards the historic cowboy town of Jackson, Wyoming. The evening is free to explore the fun town. Springhill Suites or similar 3-star, 2 nights. Madison River: 3-4 hrs, ca. 3.7miles / 6 km, elevation difference: +/-100 m Drive time: 130miles / 200 km or 2-3 hrs
Day 7. Grand Teton National Park and Elk Refuge,
Grand Teton National Park adjoins Yellowstone National Park on the southern boundary. This popular park is blissfully quiet in the winter months, as most park roads are closed to cars. We spend the day here in the shadow of the mighty 4198-meter Grand Teton. Then, we enjoy a ranger led sleigh ride through the National Elk Refuge, the winter range of 7000 elk. Grand Teton NP: 3-4 hrs, ca. 4 miles / 6 km, elevation difference: +/-100 m
Our tour concludes today. We recommend you take a shuttle or taxi to the nearby airport for your departure.
Adult Double Occupancy
7 nights in tourist class hotels (3-star) of which 2 nights are spent in cabins
6 picnic lunches
4 dinners (group prepared)
7 breakfasts
5 days of guided snowshoe walks of 2-4 hours - shorter or longer walks can be offered for those wanting to increase or decrease the time spent on trails
Full day snow coach tour to Old Faithful
Wolf watching with a naturalist
Elk refuge sleigh ride
Ample time to explore each national park in depth
Expertly trained, dedicated, local tour directors
Adult Single Occupancy
7 nights in tourist class hotels (3-star) of which 2 nights are spent in cabins
6 picnic lunches
4 dinners (group prepared)
7 breakfasts
5 days of guided snowshoe walks of 2-4 hours - shorter or longer walks can be offered for those wanting to increase or decrease the time spent on trails
Full day snow coach tour to Old Faithful
Wolf watching with a naturalist
Elk refuge sleigh ride
Ample time to explore each national park in depth
Expertly trained, dedicated, local tour directors