Highlights:
Big Island (Kona • Hilo • Volcanoes National Park)
Kauai (North Shore • Waimea Canyon)
Maui (Road to Hana • Volcano walks) … Read More
Overview
Trip Outline
Trip Includes
Trip Excludes
Gallery
Reviews
Booking
FAQ
Downloads
Duration: 13 nights, 14 days
Start City: Kona International (KOA), Hawaii
End City: Kahalui (OGG), Maui, Hawaii
Group Size: 4-11 Participants
Tour Type: Guided walking tour, easy to moderate
Languages: English, German, French, Italian, Spanish
Itineraries
Day 1.
Arrival in Kona
Arrive in Kona, and transfer on your own to the waterfront hotel. Royal Kona Hotel (3-star) or similar, 3 nights. (Airport shuttle approx. $30/pp, not included.) During the Kona Marathon, the group will be staying outside of Kona.
Day 2
Polulu Valley, ancient temples and beach walks along the Kohala coast
8 AM: Your guide will welcome you at the hotel. Of all the islands, Hawaii, or The Big Island, is known for its authentic atmosphere. This island has preserved much of its original Hawaiian character and culture. Not only is the Big Island by far the largest of the Hawaiian Islands, it is also the most diverse, offering active volcanoes, vast coastlines with white, black and green beaches, rain forests, giant waterfalls, lava deserts, and ocean hot springs. With our local knowledge, we will explore many hidden sites, hike to remote beaches full of sea turtles, hike into the heart of an active volcano, and with a little luck, we will get REALLY close to lava. On this day we explore one of the most remote valleys of Hawaii, the wild and remote Polulu Valley. We hike to the bottom and explore the wild beach. In the afternoon we explore the dry Kohala Coast, where we stop at Puukohola and Lapakahi, both remarkable sites of ancient Hawaiian temples. We walk along the shore, looking for turtles resting on the wild beaches. In the evening, we find ourselves at a local hang out, the iconic Lava Lava Beach Restaurant, where we hope to enjoy a classic Hawaiian sunset (dinner is NOT included).
Several shorter walks: ca. 2-3 hrs, ca. 3-4 miles / 5-7 km, elevation difference: +/-200 m
Day 3
City of Refuge and Captain Cook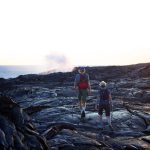 Today we will explore the fabulous "City of Refuge" or "Pu'uhonua O Honaunau" National Historical Park, which houses a picture-perfect Polynesian village perched on lava cliffs. We have time for some shorter walks, to tour the village and to swim/snorkel in one of the islands' best reefs before we look at the Captain Cook Monument and the bay where he was slain. In the afternoon, we can choose to do a guided kayak trip (approx. $100, not included), a boat tour to see dolphins, the world-famous snorkeling excursion with manta rays (approx. $100/pp, not included), or explore remote beaches north of Kona.
Several shorter walks: ca. 1-2 hrs, ca. 2-3 miles / 3-5 km
Day 4
Kaloko-Honokohau and lava desert
The morning finds us hiking in beautiful Kaloko-Honokohau National Historic Park. Along the coral beaches we walk to ancient fishponds and impressive structures created by the ancient people. In the afternoon we head over the Saddle Road, one of the most spectacular roads in the world. We will climb from sea level to 2000m, between two majestic volcanoes: Mauna Kea (4207m) and Mauna Loa (4169m), passing from tropical forest to arid desert. At Puu Huluhulu trails lead through fascinating formations and vegetation spared by eruptions. After checking into the hotel, we spend the evening at Uncle Billy's, one of the most authentic Hawaiian celebrations in the remote Puna district. Live music, dance and authentic food are part of an unforgettable evening. Hilo Seaside 2-3-star (or similar) 3 nights
Walks: ca. 3-4 hrs, ca. 3-5 miles, 5-7 km, elevation difference: +/-100 m
Day 5
Adventuring in Volcano National Park
After a leisurely morning, we explore Volcano National Park. This national park is part of Mauna Loa, the world's largest shield volcano. This national park is remarkable as it sits on the actual hot spot where islands are continually being created, producing never-ending volcanic activity and eruptions. (Check conditions online at www.nps.gov). Trails lead through massive, cooled craters, steep banks venting sulfurous gasses, and fern-covered lava tubes. This is truly a primordial landscape, raw and still in the making. Our daytime walks will take us along Kilauea Crater's Rim, edged with cloud forests of tree ferns and native Ohia.
Day 6
2nd day in Volcano National Park
The views are spectacular. If the lava flows above ground, we may organize a walk to erupting lava (additional fees may apply, depending if the lava is on private land or inside the national park). The group may also choose to visit Akaka Falls, and Waipio overlook, swim in the ocean at Richardson Beach Park, and / or rent 4x4 vehicles to drive to the top of Mauna Kea to enjoy sunset. There is also a chance to take helicopter flights to see erupting lava (optional, starting at $225)
Walks: ca. 4-6 hrs, elevation difference: +/-300 m
Day 7
Green and Black Sand Beaches
Heading back to Kona, we soon reach Punaluu Beach, a well-known black sand beach where turtles rest. Then we continue to the wind-swept southernmost point in the US. We walk on dirt tracks towards the famous Green Sand Beach, created by olivine crystals from ancient volcanic eruptions. We return to Kona for one last night. Royal Kona (3-star) or similar, 1 night.
Walks over cliffs and beaches: ca. 3-4 hrs, 5 miles / 8 km
Day 8
On to Kauai
Flight to Lihue on Kauai and transfer to the hotel. Kauai is called the Garden Isle and considered by many to be the most beautiful of the islands. Kauai is also the oldest island where volcanic activity has been dormant for over one million years. Erosional forces have created a truly stunning landscape of sheer volcanic cliffs and spires. The afternoon is reserved for you to enjoy the local beaches. Kauai Shores Hotel (3-star) or similar, 3 nights.
Day 9
Waimea Canyon
When Mark Twain visited the islands, he dubbed Waimea Canyon the "Grand Canyon of the Pacific". Both the canyon's deep red color and its size are remarkable. An early start brings us to the fantastic Kalalau Lookout, with incredible views over the wild North Shore 1,200 m (4,000 ft) below. Then we embark on a hike through one of earth's wettest spots in the famous Kokee State Park. The Awa'awapuhi Trail will lead us to amazing viewpoints over the remote North Shore. On a rainy day, we may choose to shift the walk to the drier side of the canyon at the Cliff/Canyon/Black Pipe complex. The elevation is 1,000 - 1,200 m (3,300 - 4,000 ft), which makes for crisp air. With a little luck, we will see the endangered Nene Goose, a Hawaiian native.
Walk: 5 hrs, 9 miles / 15 km, elevation difference: +/-500 m
Day 10
Napali Coast
Kauai's North Shore is famous for its one-of-a-kind scenery. A narrow, winding road leads to the far end of the island where we hike the famous Kalalau Trail high above ocean cliffs. The views are superb. (Extensive flooding resulted in the closure of this trail in 2018. In the event that the trail is not reopened the groups will instead hike the Shipwreck Beach Trail instead.) In the afternoon, we can choose to stroll in the beautiful Limahule Botanical Gardens (a small entry fee will be charged) and/or swim at one of the famous, beautiful, white sand beaches, or look for coastal and pelagic birds at the nearby wildlife refuge.
Self-guided walk (due to State Park rules): ca. 2-3 hrs, ca. 4 miles / 7 km, elevation difference: +/-200 m
Day 11
On To Maui
Time-permitting, there is a chance to fly by helicopter over the cliffs of Kauai (approx. $210 for a one-hour flight, optional), considered by many to be one of the world's best heli rides. Then we transfer to the next highlight of our tour -- Maui. Maui is a large island consisting of two massive, dormant shield volcanoes. Of the three islands visited so far, this island is the most tourist filled. From December to April, Alaskan humpback whales give birth on Maui's west side and can be easily seen from whale-watching boats. Molokini crater, a submerged cinder cone, is also a world-famous snorkel and dive site. Our hotel is centrally located and within walking distance of beaches and shopping. Kamaole Sands Condo Resort Kihei (3-star) or similar, 3 nights. (One- and two-bedroom apartments are shared by 1-4 pax, with 1-2 bathrooms and full kitchen. No daily housekeeping/ cleaning while staying at the condos.)
Day 12
Road to Hana
Today we embark on a long driving day. We start out very early on the remarkable Road to Hana, a cliff hanging narrow road skirting the remote side of Maui. We stop at Waianapanapa State Park, where we can walk over cliffs on the ancient Kings Trail. Then we head to a hidden gem, the remote red sand beach in Hana, where giant waves break on the cliffs. Our tour around the east end of the island concludes with vast views of Maui's high-country.
Day 13
Walks on the slopes of the volcano
A remote part of Maui is the Polipoli State Park, nestled on the flank of the majestic Haleakala Volcano. Here at 2000 m elevation, we enjoy fantastic views over the western side of the island as we hike through the amazing forest and fields, offering ever-changing views of the ocean and nearby islands. If you desire, you can book a day tour to Haleakela National Park's crater at 3000 m elevation (additional fees apply).
Walk: ca. 4 hrs, ca. 7 miles / 11 km, elevation difference: +/-200 m
Day 14
End of Tour Departure
On this morning you have the chance to witness sunrise in Haleakela National Park, the massive shield volcano towering over Maui. Your tour director will offer an excursion for about $150 pp. You will return before 12 noon to your condo. There is so much more to see on Maui! We highly recommend you book an extension to your vacation to enjoy the spectacular beaches. We also recommend you take the airport shuttle operated by Speedishuttle to the airport for approx. $35/pp (not included).
Half board – breakfasts and picnic lunches 13 nights in waterfront or beachfront tourist-class hotels, condos (2- 3-star) 12 picnic lunches 13 breakfasts (some self-made while in condos) *Guided, easy to medium hikes of three to six hours, shorter walks or longer hikes can be offered on demand *Walks through endemic rain and bamboo forests, active volcanic craters, lava deserts, historical trails, and on stunning South Sea beaches *Opportunities for fantastic optional trips: helicopter tours over volcanoes, snorkeling with manta rays, boat tours, kayaking *Time for swimming and snorkeling on coral reefs *Small group size allows tour director to address the particular interests of each group
*All other meals *Airport transfers are offered by SpeediShuttle, 1-877-242-5777, www.speedishuttle.com *Tips of $100-140 per person for the tour director depending on his / her performance *Alcoholic beverages *All meals not listed (dinners) *While staying in condos, there is NO cleaning service provided. Guests must prepare their own breakfasts while staying in condos. Towels and bed linens are NOT exchanged *Optional excursions *Single supplement if single room if desired *Porter-age *Some walks are self-guided *Luggage fee for the inter-island flights on domestic flights is typically not included and are to be paid by passenger upon check in, please check on Hawaiian Airlines website for currently charges